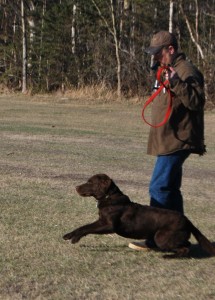 As hunting season rolls around and the testing season closes, the Midnight Sun Gun Dog Association would like to thank everyone for a great 2014 season.  This was a very special year for MSGDA.  We celebrated the clubs 25 year anniversary, held the NAHRA Invitational for the first time ever in Alaska, and at our final event, we were the first club to use the new NAHRA online entry service.
We are looking forward to 2015; we will have our 2015 event dates on our website soon.   Our focus next year will be on the young gun dogs and their handlers.  We are looking at options for special training days geared toward the started and hunter handlers and helping take them to the next level.  We will of course have our annual banquet in spring, picnic fun day events, at least three NAHRA Field tests this coming year.
We also want to let you know that the club still has some chukar available.  We need to empty our pen out before September 1.  If you are interested in purchasing some chukar, please contact Kent Bull at 229-2951.  Also, the board is always looking for help at our banquets, field events, or even as a board member.   If you feel like you can help out in anyway, please contact us.
From the MSGDA board, we hope that you all have a safe and wonderful hunting season.  Thanks again for all your support this year and we hope to see you all soon!
Posted in

Alaska, Dog, Field Test, Fun, Hunt Test, Hunting, Invitational, Membership, Midnight Sun Gun Dog Association, NAHRA, Picnic, Retriever, Tests
Comments Off
Dear MSGDA members, we are excited to announce that we are offering an additional NAHRA test to be held on Saturday August 9th 2014 at Boyd's Farm in Palmer.  This event will be a one day event and offering only the Started and Hunter categories.
For the first time in NAHRA history we will be using an online entry service.  Huntsecretary.com is now the preferred online entry service for NAHRA.  The event will be open soon for entries, but we suggest that you go to www.huntsecretary.com and create an account for yourself and enter your dog's info into the database prior to the event opening.  If you are a NAHRA member, please make sure you put your NAHRA number into your profile, if you do not have a number yet from NAHRA please type in "Pending".  If you have questions or issues with Huntsecretary, please contact Kody Bull at kodybull@gmail.com, or 223-0898, or contact Huntsecretary.com directly.  There is a great FAQ section that can also help you out if needed.  You can find the premium directly athttps://huntsecretary.com/eventinfo.asp?mhuntid=1001662, and create your account directly at https://huntsecretary.com/login.asp.
Please help pass the word of this added event, and we hope to see all the started and hunter dogs on Saturday August 9, 2014!!